A Brief History

(continued)
By Michael H. Piatt, author of
Bodie: "The Mines Are Looking Well
..."
An Industry to Mine Gold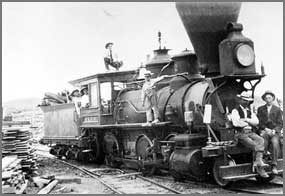 Beginning late in 1881, the Bodie Railway & Lumber Company delivered cordwood and timbers to Bodie's mines and mills. The railroad never owned any passenger coaches, and its tracks never reached downtown nor the outside world. Its only commodity was wood from forests south of Mono Lake. Trains ran seasonally until the rails, locomotives, and rolling stock were scrapped in 1917. (Emil Billeb collection. Courtesy, Vickie Daniels)


Powered by steam and fueled by wood, Bodie's mines demanded cordwood that the Bodie Railway & Lumber Company delivered from the Sierra foothills over its newly-built narrow-gauge railroad. The trains also supplied heavy timbers to support the expanding underground. The call for wood became intense after 14 mines installed steam-powered pumps that would allow their shafts to extend below the water line. Meanwhile, Bodie's nine quartz mills dropped 159 rock-crushing stamps on its ore. But a shortage of pay rock idled some mills almost immediately, and others ran only part time. Many mines that appeared promising during the excitement were abandoned within a year or two, leaving only a few companies still producing bullion. Faced with impending winter weather and little hope of employment, disappointed fortune seekers began leaving in droves after realizing in late 1880 that Bodie's ore bodies would sustain only a few profitable mines and a small but steady work force. "A quiet town is Bodie today," observed the Evening Miner in February 1883.6
Long Years of Decline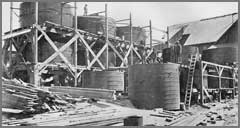 Introduced to this country in 1890, the cyanide process revolutionized gold and silver production across the West by dissolving precious metals out of crushed rock, an improvement over mercury amalgamation employed by Bodie's stamp mills. Cyanide vats are shown under construction near the Standard mill in 1898. (Practical Notes on the Cyanide Process.Courtesy, Engineering and Mining Journal)

For three more decades a handful of mines supported a population of about 800, mostly wage-earning miners and their families. Bodie's deepest mineshaft, the Standard, reached the 1,200-foot level in April 1882, followed by the Lent in January 1888. But instead of bonanza veins, miners found only ore too poor to cover the cost of fueling the powerful Cornish pumps that kept the lower levels dry. Forced to abandon pumping, miners returned to the upper levels to remove low-grade ore they once disregarded as not worth the cost of mining.

Ever-diminishing returns compelled the Standard Company to reduce expenses in 1893 by building one of the country's earliest long-distance electric transmission lines that delivered cheap power from a small hydroelectric plant 12½ miles away in the Sierra foothills. At the same time, the recently introduced cyanide process yielded new profits, initially from old mill tailings, then from low-grade ore. But despite new technology, the deepest levels were not reopened and Bodie never boomed again. The once-wealthy Bodie Company, its ore bodies depleted, sold out to the Standard in 1896. Then the Standard gave up in 1913. Only five companies at Bodie ever paid dividends: the Standard, Bodie, Bulwer, Syndicate, and Mono. The Standard proved to be Bodie's most prolific mine, producing slightly more than $18 million in gold and silver, and paying just over $5 million in dividends during its 37-year life.7


Despite improved technology, Bodie's wealthiest company, the Standard, survived only until 1913. Main Street is seen ghostly and nearly deserted in 1927. (Burton Frasher photograph. Courtesy, Bancroft Library, University of California, Berkeley)

For a few years thereafter, lowly prospectors and an occasional highly financed mining concern tried wringing profits out of Bodie's desolate hills, to no avail. Treadwell-Yukon, representing a multi-national mining conglomerate, reopened the Red Cloud Mine in 1929 and installed electric pumps to drain the 870-foot shaft. But the firm suffered heavy losses and left after two years. The mining district and the town it once supported were nearly abandoned by the time fire ravaged Main Street in 1932. Roseklip, Bodie's last large-scale recovery operation, brought in the latest machinery, not to mine underground, but to treat piles of rock discarded at the entrances to old tunnels and shafts. Instead of rebuilding the town, however, company employees found lodging among buildings still standing after the fire. World War II closed the plant after a six-year run, leaving Bodie abandoned once again. When it was over, California's Division of Mines and Geology recorded the district's overall production at almost $34 million.8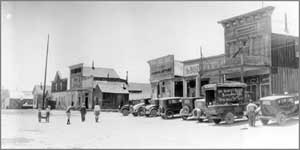 Bodie enjoyed a brief but intense revival from 1928 to 1931, when several highly financed mining companies moved in. The town was nearly deserted a year later, when fire destroyed most of downtown. (Courtesy, Gregory Bock)
Bodie State Historic Park


Comprising the West's largest, best preserved ghost town, Bodie's surviving structures were taken over in 1962 by California's Department of Parks and Recreation and preserved in a "state of arrested decay." Now Bodie belongs to the ages. Today visitors walk silent streets and gaze upon vacant buildings as they contemplate an enduring, though fragile, monument to the
real
West that was.
~~~~~~
NOTES:
1
Joseph Wasson,
Complete Guide to the Mono County Mines
(San Francisco, CA: Spaulding, Barto & Co., 1879), x-xi;
Daily Bodie Standard
27 October 1879; 29 October 1879;
New York Times
29 October 1879;
Bodie Chronicle
1 November 1879; 7th and 8th U.S. Census, Dutchess County, NY; Tuolumne County. "Deed: W.S. Body to Sarah Body." Book A, vol. 5, p. 530, 15 November 1856 (Sonora, CA: Carlo De Ferreri Archives). One Mono County resident who claimed he had known Body said his name was William, but records in Poughkeepsie, New York indicate he was Wakeman S. Body (sometimes spelled "Bodey"), a tinner who joined the California gold rush, then disappeared after departing Tuolumne County in 1859 to prospect beyond the Sierra's eastern slope. Many modern writers claim he was "Waterman," a name that appeared in an 1879
New York Times
article, probably a reporter's or typesetter's error.
2
Bodie Weekly Standard
11 December 1878.
3
Daily Alta California
16 June 1879.
4
Daily Bodie Standard
13 February 1879; Herbert L. Smith, "The Bodie Era: The Chronicles of the Last Old Time Mining Camp," [1934] TMs (photocopy), 64.
5
Daily Free Press
14 July 1880;
Daily Bodie Standard
15 July 1880;
Daily Stock Report
5 August 1880;
Bridgeport Chronicle-Union
21 August 1880.
6
Bodie Evening Miner
27 February 1883.
7
Charles W. Chesterman, Rodger H. Chapman, and Cliffton H. Gray, Jr,
Geology and Ore Deposits of the Bodie Mining District, Mono County, California (Bulletin 206)
(Sacramento, CA: Division of Mines and Geology, 1986), 32-33.
8
Chesterman,
Geology and Ore Deposits
, 32-33.
~~~~~~

www.territorialbrass.com